Driveways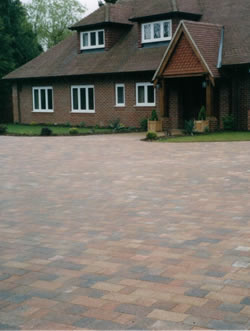 CJS Exteriors has worked on a variety of different driveways Essex, from residential driveways to driveways leading to commercial buildings. Established 24 years years ago, CJS Exteriors have a reputation for high levels of workmanship that results in driveways which are laid well with good drainage.
This quality means that you can be sure that your new driveway will perform for years to come. In addition our experience of installing driveways Essex means that we are experts in both brick or paved driveways.
We can also assist should you wish to remove a lawn or flower bed area to make way for an extension to your existing driveway too.
Quality Driveways Essex
We understand that everyone is different; whether you want your new driveway Essex to match those of your neighbours or if you want to express your own individuality and use your own design we can help. We will work with you to make sure that you are totally happy with your new driveway regardless of it's colour, layout or material.
You tend to find that the traditional driveways for Essex houses are so varied in colour, shapes and size that almost every imaginable driveway has been laid.
Our prices are extremely competitive and our workmanship is of a very high standard, so if you live in Essex or the surrounding area please use the form below or click on the contact page to get in touch about your driveways Essex requirements.
We've got driveways in Essex covered!
You might also be interested in our garage conversions or flat roofing.