Single Storey Extensions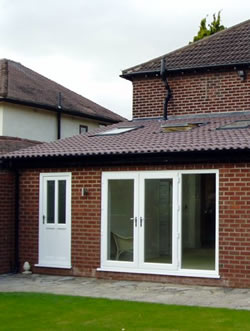 We all crave more living space in our domestic settings and extending a property with a single story extension in Essex has always been popular.
Over recent years the housing market has seen home owners look more and more into adding extensions to their home. It's a great way of maximising your home's potential, rather than going down the traditional route of buying a bigger house which can add unnecessary stress.
Throughout the history of CJS Exteriors, we have designed and built an absolute myriad of home extensions of all shapes and sizes.
Single Storey Extensions Essex
With our triple glazing the window works as the nature's own radiator. The slim and well-insulated construction makes it possible to let in more solar heat during winter, than it lets out. This results in a much lower heating bill and significant CO2 savings. Moreover, the indoor climate is improved for both comfort and health by minimizing drafts and cold spots.
Integrating a visionary 'can do' philosophy, allied to a hard graft work ethic, we thrive on the challenges which come with creating extensions which we know can transform the domestic existences of our customers.
The increasing sophistication of interior design and space planning ensures that contemporary extensions can dramatically improve the lifestyles of their homeowners, whilst adding considerably to the market value of their properties.
As ever, we manage all extension projects from concept to completion and utilise our team of experienced trades persons as and when they are required.
Builders, plumbers, electricians and decorators are all instilled with the values of the company which is driven by a desire only to be the best. Trust us to deliver your vision by contacting CJS Exteriors for a free project analysis and transparent estimate for your single story extension in Essex.
You might also be interested in our flat roofing or porches.