Flat Roofing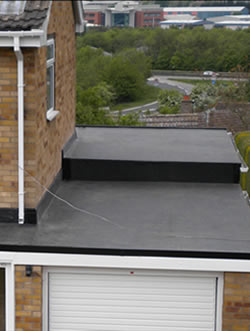 Serving the Essex area for over 24 years, CJS Exteriors flat roofing services carry out all types of roof and flat roof repairs in and around Essex. We construct or repair flat roofs with felt, GRP fibreglass or EDPM Rubberbond, we also offer flat roof renewals as well as flat roof replacements. On top of this we also offer roof lights and chimney lead flashings repair along with our other flat roofing services with a 24-hour rapid response for emergencies.
CJS Exteriors have the experience and expertise to provide Essex residents with a one-stop shop for all their roof and flat roof repair services.
We are also specialists in new GRP fibreglass flat roofing systems and EPDM Rubberbond flat roofs. These materials are of suprerior quality to traditional materials, if your flat roof is beyond repair or you need a Replacement Flat Roof we have the experience, quality and know-how to provide you with the best flat roofing solution.
CJS Exteriors are a local Essex based company specialising in all aspects of roofing and flat roofing services and have been trading for over 24 years as a roofing company. We have built up an excellent reputation for our professionalism and quality of work with in the local community.
Flat roofing expertly installed by CJS Exteriors
We have a wealth of experience with in the roofing and building industry with over 24 years experience, we pride ourselves on repeat business due to the high standard of our workmanship and reliability of our highly trained trades people and trustworthy roofers. We cater for flat roofing services for residential and commercial buildings, for all private houses, blocks of flats and period homes.
We have a very competitive pricing policy and can provide you with a free no obligation consultancy and quote. We will then estimate for you how long we think the job will take, what materials are required and how we intend to complete the work for you ensuring the minimum disruption to your daily lives.
Our service team can advise you on all different types of roofing materials and can supply you with our wide range suitable products depending on your budget. We can guide you with our experience of what we think suits your home best and therefore most atheistically pleasing.
You might also be interested in our porches or flat roofing.