Energy Efficient Glazing in Essex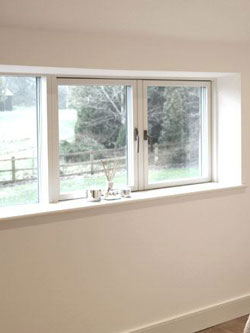 Energy efficiency has become more important than ever these days, with more of us trying to reduce our carbon footprints. Energy efficient glazing keeps more heat inside your home, and when paired with other energy efficiency measures like insulation and an eco-friendly heating system, annual energy bills can be substantially lowered.
We are proud to offer an excellent choice of energy efficient windows and doors that meet the needs of 21st century homeowners without compromising on style, function or security.
What Is Energy Efficient Glazing?

This term is used to describe window glazing which consists of either two or three glass panels held inside a sealed unit. An energy efficient door or window will be made up of framing materials such as uPVC or timber and glass sealed units.
Energy efficient glazing is given a rating according to how well it reduces the amount of heat lost, how much sunlight it allows to travel through and how well it allows the movement of air.
Energy efficient glazing contains an air gap which limits how much cold air is able to get into the property. This gap is filled with argon or other gases which reduce the loss of heat. As an added bonus, argon-filled air gaps also interfere with sound waves to reduce noise pollution.
Energy Ratings

Energy efficient glazing is rated between A++ and C, with A++ being highly efficient. It is also given a U-Value which refers to how well heat passes through the sealed unit. Glazing which has a higher U-Value is less efficient than that which has a lower value.
Why Choose Energy Efficient Glazing?

Energy efficient glazing brings a host of advantages including:
Better energy efficiency for lower energy costs and a smaller carbon footprint
Less noise pollution – sealed triple or double glazing reduces high to mid frequency noise for a more peaceful and comfortable living environment
Better thermal insulation – keeps the home cooler in the summer and warmer during the winter as the gas gap between the glass panes provides an additional insulation layer to increase thermal resistance and reduce how much heat escapes from the home
Less condensation – energy efficient glazing reduces condensation and so reduces the damage to window frames which can occur in bad cases of damp
Security and safety – with additional panes, energy efficient windows offer a barrier that is more secure against intruders than single glazed windows
Cost savings – energy efficient glazing saves homeowners money in the long run as te amount of energy necessary to heat the property is reduced
Better comfort – less heat will be lost, there will be reduced noise, and both of these factors lead to a more comfortable living environment
Increased property value – when you make energy saving improvements, your property will increase in value up to 38%
The Importance Of Ventilation

When you install energy efficient glazing in your home, you may find that you have a lack of ventilation. You can reduce this risk by having trickle vents installed in your windows. Our energy efficient windows and doors can be fitted with these features so that you can enjoy all of the benefits without any of the negatives.
Our range of high quality energy efficient windows are the ideal solution for any type of property, so whether you live in a traditional or contemporary styled home, you can find the perfect windows for your needs.
With eco-friendly windows that come in a selection of styles and designs, and with a choice of attractive hardware and panes, you can enjoy the many advantages of cutting edge windows without any downsides.