Gable Conservatories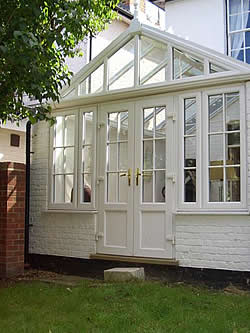 We are proud to supply and install gable conservatories throughout the Essex area. Our gable conservatories are the ideal choice for homes where space is at a premium, offering maximum brightness and an open feel without taking up too much room.
With their compact footprint, gable conservatories in Essex are a beautiful and luxurious option which perfectly suits the needs of homeowners with smaller gardens but who want the option to increase their home size while enjoying spectacular outdoor views.
What Is A Gable Conservatory?

A gable conservatory adds elegance and grandeur to any home, dating back to a style that was popular in Georgian Essex. Today, you can enjoy the appeal of a gable conservatory in your period property or even in a contemporary one thanks to their stylish and timeless design.
Gable conservatories feature a roof which does not slop backwards to the roof's centre. Instead, the conservatory's front remains upright, exactly like the end of the house, and with its rectangular or square floor plan, it offers maximum space to use as you wish.
With a gable front, this style of conservatory not only adds visual appeal to a property in Essex, it also maximises the amount of natural daylight which comes into the room, while its added height gives a feeling of airiness and space. A gable roof offers a stunning and grand impact from both outside and inside the home, adding value to the property.
Ideal For All Kinds Of Home

Although a gable end conservatory lends itself perfectly to period properties since it captures the bygone look of opulent orangeries of days gone by, it can also be used to equally impressive effect in a modern property thanks to the bright feel that they bring a home. Whatever the age or design of your home, you can be sure that a gable conservatory in Essex will be a luxury addition to your exterior.
Thanks to their regular shaped floor space, they also lend themselves well to a range of purposes, so whether you use your gable conservatory in Essex as an additional seating area, as a dining room or even as a home office, you can be sure that you will be able to get the most out of your new garden room.
Roof Finishes

We have a choice of several roof finishes for you to select from, including polycarbonate and glass. Our polycarbonate roofs represent outstanding value for money while our glass options allow plenty of natural daylight to come through while maximising your interior space and offering outstanding energy efficiency.
Whichever roof type you prefer, you can be confident that only the best quality materials will be used for a flawless and attractive finish that will add even more appeal to your beautiful new conservatory in Essex.
Colours And Designs

Our gable conservatories are also available in a choice of colours or in natural wood-grain so that you can achieve the look that you've been aiming for. We have fully glazed designs to maximise the amount of light which enters your home, with glass from the floor to the roofline, or, for those who would like to blend their conservatory more naturally with the rest of their home, we offer combinations with dwarf walls of various heights. We even offer a selection of decorative glass options to the sides and fanlights so that you can add all the detailing that you desire.
With so many different options to pick from, you're sure to achieve the perfect look that you've been dreaming of while also adding value to your property in Essex and increasing your living space in a functional yet incredibly stylish way.
Finishing options available include:
Variety of roof finishes including glass and polycarbonate.
Wood-grain and colour options.
Fully glazed designs with glass from floor to roofline or combinations with various dwarf wall heights
Decorative glass options to fanlights or sides
You might also be interested in our lean to, p-shape or t-shape conservatories.