Bereco Timber Folding Sliding Doors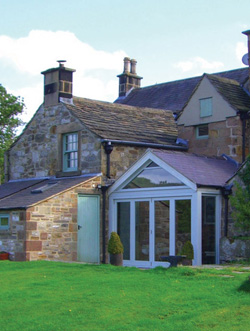 Our folding sliding doors in Essex, bespoke by Bereco, bring a tasteful touch of science fiction into your home. These doors effortlessly slide into the wall, disappearing when not needed and thus no space is taken up in your home when the door is left open to let in a cool breeze.
The selection available includes an impressive 10 leafs with different designs, reaching as wide as 10 metres. In fact, depending on your property in Essex and needs, and cleverly placed folding sliding door can open up an entire portion of the property to the beauty and tranquillity of the outdoors.
Discover what Timber Folding Door in Essex is Right for You

The mouldings and the bar options for the timber folding and sliding door are available in either contemporary or traditional styles in Essex. If you choose a contemporary style, ready yourself for something sleek and effortless with minimal interruptions. It's round and thin mouldings are usually the best choice for any and all new build homes. On the other hand, traditional style folding doors involve a more intricate and elegant set of mouldings in ovolo style, which is often the ideal choice to complement a home or property decked out in period or heritage design aesthetics. Often, this style of door is the best choice for letting in a maximum amount of light into these older properties.
Product Choices
Acoustic or triple glazing
Available configurations that also open inward
Available configurations to sustain a floating door leaf
Certain models offer internal locking system only
Certain model include both internal access and external access
Trickle-style ventilation
Panels are raised, fielded, and thermally insulated for every contemporary style door
Panels are sculpted and thermally insulated for each traditional style
Threshold options include either 153mm x 63mm or 196mm x 63mm