Triple Glazing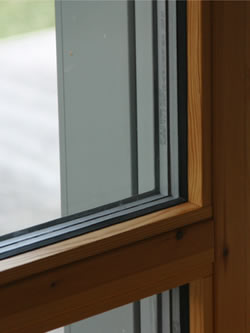 More and more people are choosing triple glazing for their homes and businesses and it is easy to see why with so many additional advantages over double glazed windows.
Triple glazed windows are slender by design so you get the maximum amount of natural daylight in a building. Streaming light, coupled with solid timber frames make for safe, stylish and functional windows.
How do triple glazed windows work?
With the addition of a third pane of glass, the solar heat from the sun is allowed into the room in winter, with cold spots and draughts effectively eliminated. This creates a pleasant, ambient temperature without the need for a huge amount of heat, saving you considerable money on energy bills in the long run, as well as reducing your impact on the environment.
Advantages of triple glazed windows
If you thought double glazing was excellent, just look at what triple glazing can offer:
Security – triple glazed units make it incredible difficult for an intruder to gain unauthorised access to your home
Unbelievable savings on your energy bills
Reduces your carbon footprint too by using less non-renewable energy for heat
Excellent ability to throw natural daylight around the room
Even better noise reduction
Draughts and cold spots significantly reduced
Not all triple glazed units are the same; cheaper alternatives do not have enough space between the panes of glass, significantly reducing the advatages of triple over double glazed windows. CJS Exteriors know that quality products deliver better over the longer term and only use the very best quality triple galzed windows.
Handles, Colours and panes
Our product range is fitted with handles and an espagnolette system as standard. The espagnolette system features an integrated friction brake so that your windows can stay open in any arbitrary position. Our triple glazing product range is available in a wide range of standard colours, and you can choose from a wide selection of energy efficient panes, depending on the function of the window in your home. If it is a bathroom window i.e., you can choose between several different panes which obscure the view into the bathroom.
Quality triple glazed windows in Essex
Our triple glazed units meet all required standards to offer you the best in terms of security, noise reduction and other aspects of functionality. Fitted with an espagnolette system, your triple glazed units can remain in an open position, without damaging hinges as well as offering a smooth opening and closing operation.
Likewise, hinges are adaptable to offer the possibility of cleaning the outside of the triple glazed window by allowing full access to the outside. The window hinges are adapted so the window can be completely turned in on itself, allowing ease of access and cleaning that negage the use of an outside ladder.
All our triple glazed units are also available in a wide variety of finishes, inclduing paint and stain colour choices for frames and sills.
Particular units can also be finished to your requirements, such as clouded or patterned glass for use within a bathroom or another area.
You might also be interested in our Aluminium, Leaded light or uPVC windows.