Bespoke Conservatories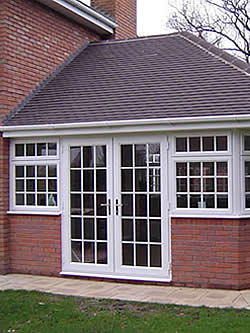 CJS Exteriors Windows has been supplying, designing & building conservatories in Essex for 24 years. No conservatory is a standard design; we create and design each one separately. Each house and property is unique and so each conservatory should be unique too.
Our bespoke conservatories offers a flexibility and versatility space to our home and is an elegant space that every modern household needs - it can form a light and airy dining room, or an additional living space that opens into the garden or a sensational room in which to entertain. No matter what you have planned for your conservatory, CJS Exteriors has the design solution.
A bespoke conservatory as an extension to your property is a considerable investment of both time and money. With CJS Exteriors you are guaranteed first class customers service from the start of the project to completion. With an enviable reputation that is unsurpassed, we can make your conservatory a reality, creating a wonderful space that friends and family will admire, no matter how complex or simple your ideas may be.
When designing and building your bespoke conservatory in Essex we will:
Redesign existing space so that life flows seamlessly from the internal rooms into the conservatory
Obtain all the necessary planning permissions and meet all building regulation requirements
Obtain structural and heat calculations so the conservatory is in use all year round
We complete the whole project including the building works to the final finish
Advise on a variety of installations services such as under floor heating
Tiling services with natural stone or ceramics
Provide interior & exterior lighting design
Design interior furnishings to compliment the setting
Provide landscaping
"A well designed and constructed conservatory will change the way you are your family live."