Bi-Fold Doors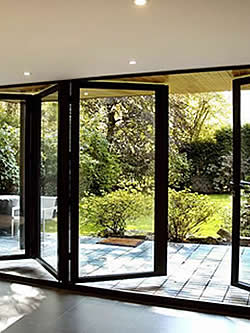 Bi-fold doors in Essex are an increasingly popular choice for homeowners.
Various home improvements television programmes, along with the internet have increased the popular appeal of bi-fold doors. They offer a modern style to discerning homeowners, and open up the interior to connect to the garden - without unsightly posts or columns.
CJS Exteriors have over 24 years years of supplying and installing doors in Essex and currently boast a large selection of bi-fold door styles.
What to look for when choosing Bi-Fold doors
Bi-fold doors are, by their very nature, strong, robust and secure, offering a high level of thermal efficiency as well as a stunning improvement to any property.
Bi-folding doors for your Essex home will add a high level of visual appeal but check that the option you chose tick the following boxes:
Made from a high grade material that boasts weather proof seals as well as a high level of security
An easy slide or folding mechanism. Bi-fold doors shut open and close with a smooth motion
The finish needs to be of a high standard and the bi-folding door frames made from the material you specify
As suppliers and installers of bi-folding doors, CJS Exteriors can offer the Essex homeowners a large choice of finishes and materials. These doors make a stunning addition to any home and with one of the leading bi-folding doors installers in Essex on the job you are guaranteed an excellent product and finish.
Some of the other types of doors we install include; patio doors, garage doors and aluminium doors.