Wood Effect Windows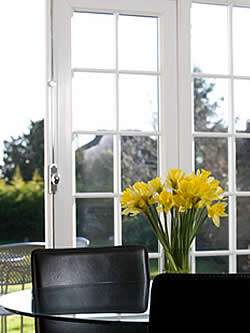 If you do not own a listed property but desire the natural look of timber windows, there is an alternative for our Essex customers.
Bespoke wood effect windows can cost a lot more than you expect...up to 3 times that of a uPVC option.
There are a large number of uPVC windows on the market that claim to look like wood but fail to satisfy the discerning purchaser in so many areas.
Design
Our wood effect windows stand out on its own with a quality of finish that is unsurpassed.
The designers set out to duplicate a wooden window for the wood market, not to make a plastic window with a wood grained finish for the uPVC market. A window that looks like timber with the detail of timber and the soft soulful finish of timber but maintenance free, a draft proof, energy efficient window that will open and close without sticking 52 weeks a year and will never need painting.
All the advantages of a maintenance free window but with no compromise on style, character, property value and pride of ownership.
Frames
The frames combine the structural strength of the outerframe section being welded with a discreet knife finish but the overall look is further enhanced with a more traditional mechanically butt jointed vertical mullion and horizontal transom section to replicate timber window manufacturing processes.
All frames have a timber grained finish in white, cream, black, natural wood or any colour that you require.
The internal edges on the outer frames are all ovolo with the exact detail of a timber window.
Sashes
The opening and dummy sashes have been designed using a timber sash as a model. The external edges are a pencil round finish with a putty line edge to the glass. The only part of the wood effect window that is welded is the casement using specially designed and patented machinery, the result is the neatest flat mitred joint available with no unsightly grooved corners.
Cills
We have a joinery shop to provide factory spray finish 55mm depth hardwood cills in any colour to meet your requirements, thus providing the correct architectural substance for a character property. Alternatively we can install stone or tile cills to match an existing style.
Glazing Bars
The Georgian & cottage wood effect glazing bars are all precision cut by hand and are an exact duplication of a timber glazing bar. The external bars have a putty line whilst the internal bars are ovolo. The glazing bars are available in both 20mm & 36mm options.
Furniture
The storm wood effect range offers some of the most desirable furniture available on any window system including contemporary, monkey tail and period styles in black iron, chrome and solid brass.
Cost
You will be pleasantly surprised at how competitively priced our timber alternative windows are in comparison to our bespoke timber range, sometimes up to 50% less.
Mixed
Many of our customers mix the two, choosing a bespoke hardwood entrance door and our wood effect windows.
Discerning property owners
The majority of our wood effect windows are bought by discerning property owners looking to buy timber and have selected us either from their own homework or recommended by a friend or architect.
Get a comparison
We will be happy to provide you with a detailed quotation on several options from our wide selection of frames and materials so that you may make an informed decision in your own time based on all of the facts.
You might also be interested in our Leaded light, Upvc or Timber windows.