Rationel Windows in Essex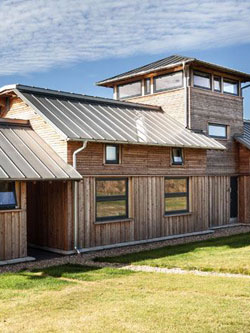 Rationel Windows in Essex have been well known for their quality, solid workmanship since 1954. Built on a strong foundation, today Rationel is a thriving international company with offices in Denmark, Ireland and the UK. Manufacturing premium quality energy saving windows which offer a high level of security and comfort, Rationel always meets both market and statutory requirements for functionality and design.
Ranges for Traditional Homes

Rationel's range comprises an outstanding selection of energy efficient windows which are perfectly suited to the needs of classic and traditional homes in Essex. The FORMA range of all-timber windows feature non-continuous, slim bars is ideal for use in older properties, while the FORMAPLUS range, with its external aluminium cladding ensures that minimal maintenance is required to keep these windows looking their best.
Both of these traditional ranges are available without or with glazing bars to suit your preferences, and as they can be joined in multiples they are ideal for even complex window solutions in Essex.
Modern Energy Efficient Windows for Contemporary Properties

Rationel also stock a range of beautiful windows that are perfect for contemporary and modern properties in Essex. Boasting high energy efficiency paired with architectural elegance, the AURAPLUS and AURA ranges are all triple glazed for maximum energy saving.
With their minimalistic and sleek design paired with outstanding optical clarity, these ranges are perfect for created large glazed areas to allow natural daylight into any property for a more pleasant living environment.
As an added advantage, the AURAPLUS and AURA ranges achieve the Passive House standards for energy efficiency to dramatically slash energy bills and CO2 emissions. Made from solid timber, the AURA range is naturally beautiful, while AURAPLUS windows feature exterior durable aluminium cladding for added protection from even harsh weather conditions with the bonus of requiring no ongoing maintenance.
With many glazing options, colours and styles to choose from, there is sure to be an AURAPLUS or AURA window to suit your individual project in Essex.
Maximum Energy Efficiency

Leading the way in energy-optimised glazing, the AURAPLUS and AURA ranges boast high performance 32 mm double or 52 mm triple glazing, with U valued down to just 0.79 – perfect for Passive House construction and low energy buildings.
All of Rationel's units are made using argon gas insulation with a thermal break to reduce heat being loss from the window's perimeters. Rationel's energy optimised glazing actually allows more solar heat into the property than is lost via the windows to significantly cut energy consumption even during the winter months, ensuring a comfortable and warm living environment without cold spots and draughts.
Secure and Safe

All Rationel's windows in Essex have been Secured by Design to resist break-ins, and have all passed a weather resistance test for added reassurance. Other tests are also carried out on Rationel's windows to ensure wind resistance, water-tightness and durability for the buyer's peace of mind.
Rationel Window Styles

The Rationel windows range comprises numerous styles to suit all kinds of preferences and properties including:
Fixed light
Topguided
Sidehung
Sideguided
Tilt and Turn
Not only do Rationel windows in Essex come in standard styles, they can also be manufactured to bespoke shapes to fit unique openings including slanting, circular and curved units.
Unique Detailing

Rationel's windows come equipped with beautiful fittings, hardware and ironmongery to guarantee that their window range operates efficiently without compromising on style.
For added security, the frame features a number of locking points and reinforced fittings come as standard as well as espagnolettes that have 3 locking points.
Rationel's windows are also available with air vents built in to allow for controlled ventilation in the property. This can ensure the optimal indoor climate without the possibility of draughts thanks to high airtightness levels and high levels of performance.