Dutemann Sliding Doors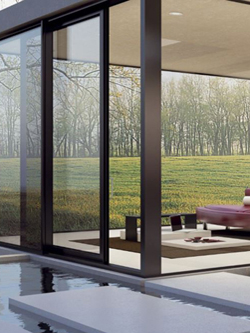 CJS Exteriors supply and install Dutemann Sliding doors in the Essex area.
Dutemann Glide-S reinvents the inline sliding door
With an ultra slim profile including a 47mm mullion and a 28mm up stand threshold, the exclusive Glide-S gearing system raises the bar to offer a seamless opening and closing mechanism of up to 400 kilos per panel. This innovative design creates a system that can span an opening of 6.7m by 3.2m in only two panels.
By combining slim aluminium sight-lines with superb lift gearing, the Dutemann Glide-S will provide architectural flexibility for those who want a patio door capable of a maximum glass area, but without the interruption of mullions between panes.
The Glide also offers excellent weather tightness. Providing a system that rests over the weather seals and incorporates a concealed drainage ability that ensures excellent water evacuation. Negating a major issue that affects other products of a similar nature.
As standard the Glide comes with a multi-point locking system and high security cylinders. Keeping you and your home safe with an extra level of protection.
With stacks of appeal in a myriad of different applications, the glide can prove to be an innovative solution for a variety of different projects.
The Dutemann glide also comes with a 10-year guarantee, meaning that you'll not only receive a product crafted to Dutemann's already high standards, but you'll also peace of mind as well.
For more information, please call 01322 771213 or email us sales@dutemann.co.uk